| | | | | |
| --- | --- | --- | --- | --- |
| | | | | English Newsletter # 2 (Fuck-off Machete, McLusky, Lawstreet 16, Lydia Lunch live review) |
English Attraction #2
It is fairly obvious that there is work to be done with concern to the punctuality of this newsletter. New Year resolutions, my R's.
Album Reviews: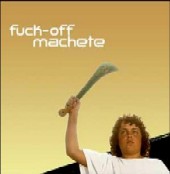 Fuck-off Machete 'My First Machete' (Lost Dog Recordings, 2004) by Kyriakos Skordas
A machete is not only present in the band's name, but it is also represented on the album's cover, in the hands of a moody-looking young boy. However, the Scottish trio does not intend to terrify when it ever so often employs its riveting melodies, whispering vocals and repetitive tempo, only to break into chaos via erupting guitars and screaming. Their distortion reminds of Sonic Youth and, at times, Elastica. The tracks that particularly stand out from this notable debut album are 'Panda' and 'Sudosu".
McLusky 'The Difference between Me and You Is that I Am not on Fire' (Too Pure, 2004) by Kyriakos Skordas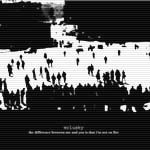 The second coming of the Welsh trio confirms that they are more than just another band worth listening to, having developed an anti-conformist unique punk-rock sound, which is as exciting as Franz Ferdinand, as whimsical as John Spenser, and more slovenly than Damon Albarn. Witty and noisy, their outbursts of guitars and drums competing each other are rarely delayed by melodic intros, kicking in like the desert snowstorm (in Texas). The fans of The Rupture and The Killers, as well as the friends of Sonic Youth and The Pixies, will also be attracted to this album by its purring guitar sounds.
Lawstreet 16 'Off the Sidewalk' (Released Power Productions, 2004) by Apostolis xhumanflyx

The front-man of this band from Belgium is the well-known in the h/c scene circles Alain, who is also the owner of the label. In their first LP, Lawstreet 16 play fast, old school h/c, evidently influenced by the sound of the early 80's American h/c sound, and bands like Minor Threat, 7 Seconds, and Negative Approach.
Live review:
Lydia Lunch @ Hydrogeos, Thessalonica, Greece – 10 Dec 2004 – by Kyriakos Skordas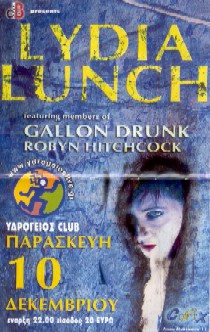 This review appears a few weeks after the gig. However, a web fanzine has this privilege to update its material at will, regardless the article's timeliness.
The gig itself did not sell well, attracting the 'usual suspects', the same 50-100 people that go to the same gigs. On stage, the genuineness of this ever-resourceful avant-garde muse was proved beyond any doubt that her debunked kitsch-flirting look could give birth to. Her breath of melodies and curses spitted out songs from her previous album 'Champagne, Cocaine, and Nicotine Stains', as well as a couple from her new one, titled 'Smoke in the Shadows', that were performed with the addition of electronic (and) pre-recorded sounds. The band consisted of Ian White and Mark Horse (Gallon Drunk) and Ntshuks Bonga (Robyn Hitchcock).
No News this time, as I'm currently considering a revision of (not only) this section. More details in the next newsletter in a few days.