| | | | | |
| --- | --- | --- | --- | --- |
| | | | | English Atrakt-ed newsletter (Von Magnet, Elvis Costello, Blimey! + live of Giardini di miro, Arab Strap) |
Thursday 27 January 05
English Attraction #3
This third article presents album and gig reviews from the 3 previous weeks. Voila!
Album Reviews:
Von Magnet 'De L'Aimant' (2004) by Georgos Galanis
Anne Fontaine's film 'Nathalie' contains a sample of Von Magnet's 'Payaso', an unwise choice since the tension that the tune suggests is matched weakly by the respective scene. It would fit more effectively in a scene from Tony Gatlif's 'Exils', when, during a festive gathering in Spain, the locals get engaged in a passionate dance to flamenco music, which reaches the stage of a hysterical and purging ritual.
Von Magnet have always been volatile, shifting across different styles, led by their obsession with the primitive human feelings and instincts. From digital noise to flamenco, from techno to tango, their multicultural melting pot accommodates alternative modes of artistic expression, such as music, choreography/dance, video art, and poetry/spoken word.
While their previous album was influenced by Eastern, particularly Arabic, music, 'De L'Aimant' is a return to their roots, flamenco. The main body of the collective remains unchanged, with Jerome Soudan's electronic beats and melodies set in the background this time, and Flore Magnet's charming vocals leading into tragically climactic moments, clashing with the ever-blazing bassy voice of Phil Von. The addition of Sabine Van Den Oever on flamenco guitars is crucial, as the whole album is founded on traditional Andalusian rhythms (rumbas, alegria, buleria, fandango, etc.)
Contrary to the current trends in the music industry, with regard to the clearcut productions of Ethnic music, traditional music and technology in Von Magnet are brought together raw and jagged; they are allowed to clash and release uncontrollable energy. In 'De L'aimant', lava is flowing into a sea.
Elvis Costello and The Imposters 'The Delivery Man' (Lost Highway/Universal, 2004) by Georgos Galanis
Costello's new album marks 27 years of a prolific career, telling a story set in the American South. 'The Delivery Man' is Abel, who confesses the murder of his childhood friend, 30 years after he committed it. He carried the burden of guilt through all these years, wandering across the southern States, flirting and lovemaking with sexually repressed widows, in quest of psychological relief for himself.
The album is thematically inconsistent: There is no narrative order and Costello's concept is often put aside, for instance, in the track 'Monkey to Man'. On the contrary, the music and the artwork on the cover are characteristic of the musician's intentions: The pure country blues songs of the album, which was recorded at the Sweet Tea studios in Mississippi, is offered alongside photos of Costello, taken in typical American South settings.
The album's most interesting moments are found in his vocal duets with Emmylou Harris and Lucinda Williams, each of the featuring singers approaching her role as a widow in a unique manner.
All in all, Costello managed to record an ideal soundtrack to his story, sounding like a New Orleans-born singer.
Blimey! 'When She's In Your Head' (Partners In Crime, 2004) by Kyriakos Skordas

When the time came to record his 3rd personal album, Martien Van Bergen decided to stay in and do it at home, also finding it handy to play all the instruments, arrange the samples, etc. himself. Naturally, home-made productions of this sort provide a particularly acute view of the private world of the artist. They are also typified by frequent melodramatic outbursts, which reflect the frustration of either the individual that feels lonely in modern societies, or the musician him/herself that feels lonely during the recording.
Martien might not be a music genius, but he's a notable musician with a diverse repertoire. His lo-fi rock style accommodates folk and blues elements, bringing in mind Damien Rice or Moldy Peaches, as well as psychedelic and jazz freak features, pointing at the sound of Tom Waits or, even, Deus. At times, he may also turn up the volume of his guitar, like Pavement do. His shifting lever across genres is basically his voice, which moves easily from reciting to hoarse singing, and from ballads to blues howling.
The album is rich in ideas, making it hard to classify but more interesting to listen to.
Live reviews:
Giardini di Miro @ Mylos, Thessalonica, Greece -07 January- by Kostas Papaspyropoulos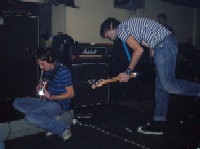 During the past 4 months that Mylos Club was under reconstruction, it became evident how prominent this venue is for the cultural life of Thessalonica, particularly when it comes to gigs. Once it re-opened, Kazan db Productions returned to their home, The Xylourgio, and booked Giardini di Miro.
The Italians were disappointing, confirming that their gigs cannot match their studio qualities. Despite the experience they've gained playing live, their evident commitment, and how much they seem to enjoy it on stage, the performance was not exciting for much longer than, say, 20 mins. Their negative features include the Brett-Anderson/Brian-Molko-like singer of the band who, considering also the unwise choices of cover-songs, did not justify his addition to the band. Furthermore, they approached their material with a not particularly effective, noisy and distorted, Sonic-Youth-ish attitude, abandoning the violin and brass touches that render their albums an atmospheric dimension.
The support act was performed by the experimental electronica band Eventless Plot .
Arab Strap @ House of Art, Athens, Greece -15 January- by Aris Ktoridis
The timing of the gig was particularly good, since there aren't any important gigs coming up in Athens in the near future. The first band on stage was from Greece, The First Aid , who did not sound exceptionally original, however, their post-rock-ish music was quite promising for the future. Their set lasted 20 mins, followed by an unpleasant hour gap before Arab Strap kicked-off.
The songs that Aidan Moffat and Malcolm Middletton chose to perform were kept close to their album versions, with an occasional jazz undertone, provided by the trumpet sound. Accompanied by a tight band of four musicians, they imposed the dull melodramatic atmosphere that characterizes their music. One of their best moments was the acoustic version of 'Soaps', which they played during the requests-only 20 mins encore.