| | | | | |
| --- | --- | --- | --- | --- |
| | | | | Interview with Frame 3-13 |
Interview with Frame 3-13
by Rhys Edwards (edwardsrhys953@yahoo.com)
The interview took place between Rodon fm DJ Rhys Edwards and lead singer of Frame 3-13, Jack Brimacomb.
The music comes first second and third for this young South Walestrio. They take it so seriously that it becomes fun. The musical version of the art which conceals art.
Their aim is simple- write really, really good songs, play them really, really well, get people listening, watching, dancing and having a really, really good time. For the music think 'Average white band' (without the horns) A Welsh 'Level 42', and occasionally veering off to Abba/Kinks pop harmony wonderland with the raw energy usually associated with Punk. It's life-affirming funk pop rock. High tempo, guitar/bass/drums, with deceptive harmonies and irresistible dance ability.
Life is short, it's up to you what you do with it, or your 'dash' as the boys call it in their provocative track 'Shadows', (that's the 'dash' between your date of birth and death on your gravestone,).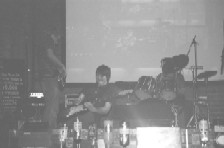 While you are thinking about that have a good time with us. That's the message according to front man/singer/writer/vocalist Jack Brimacombe now 19 from Swansea. He lives to perform, play and write. When they play it is not a recital it's a show. Top music, top fun. Quirky banter with the audience is a trade mark Frame 3-13 feature.
Enjoyment is compulsory.
They have played gigs across South Walesand are in demand from a growing number of venues with a crowd pleasing set and a loyal, growing band of enthusiastic followers. The most memorable gig was when they were booked by mistake to play for a Hells Angel pub in Neath by someone who thought they were like Motorhead- but they had the men in leather dancing and grooving before the night was out. Not bad for a bunch of eighteen year old kids.
Their much coveted CD ' Artwork of Youth' is currently being produced by the Voros Brothers and contains a selection of their growing number of songs. In the meantime they have plans for more gigs, C.D, more practice, more practice and of course, more writing. One signature song "We Wan'oo" encapsulates their attitude with the lyrics 'We don't Care', but hear the songs and you will discover they really, really do care.
Rhys : Well lucky for you guys we have a live interview with Jack Brimacomb from the U.K. band Frame 3-13. So lets say hello, hello Jack.
Jack : Hey Rhys hows it going mate?
Rhys : Im good mate and you?
Jack : Well im feeling abit mad like, well this is abit mad.
Rhys : Its always abit mad mate that's how we like it. Well look ive got a few questions for you today, are you ready for a grilling?
Jack : Of course, im always ready.
Rhys : Ok great, well Jack if you would help me out and introduce the band to the Greek public.
Jack : No problem, well im Jack and I play guitar and sing in the band, Then we have Wayne Thomas who is the psycho bass player, and Kyle Voros who is the mighty drums man. Kyle also does abit of backing vocals like.
Rhys : Kyle is the one with the sweet as voice like.
Jack : I think he sounds like a druggy.
Rhys : Well you said it not me. I think the people would like to know abit about how you all met, how the band came to be?
Jack : Well its quite a crazy story, me and Wayne where quite good footballers, we both played for the football association of Wales. I don't know if Greek people know about Wales like.
Rhys : Oh they know about Wales don't worry, ive been educating them.
Jack : Good good. Well me and Wayne met playing for them. We ended up going to a lot of parties together and became big drinking buddies. I met Kyle at college where we were both studying music technology.
Rhys : So did you play guitar before you met the guys or not?
Jack : Well no, I actually started playing guitar with Wayne because we wanted to learn together and play the music we liked. So we spent much of our youth together in either Swansea or Llanelli playing and learning. Like id learn something or Wayne would, and we would teach it to the other, it was great. To be honest we just enjoyed getting drunk together and trying to write songs like.
Rhys : So Wayne was more of a drinking buddy at first?
Jack : Yeah I suppose he was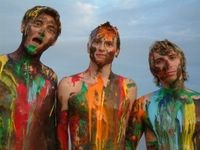 Rhys : I suppose that's how all good mates start off.
Jack : Yeah, but when we met Kyle we loved him, he's a great drummer, great violinist and a prodigy on the piano.
Rhys : He is well known for his musical ability
Jack : He's a fucking genious.
Rhys : So Jack What id like to know is a little about the music itself, whats the idea behind it?
Jack : Oh god the idea behind it. Well I don't know really. I suppose its just me writing songs about how we all feel. I first started writing songs about issues I had going on in my life.
Rhys : So for yourself mainly.
Jack : Yeah, I think music really became my therapy, if you know what I mean.
Rhys : I think that's probably the best reason for writing music, like your release mechanism for all the bad things in your life.
Jack : Exactly.
Rhys : By listening to your music we see its of funky descent, Why do you think the people of Greece should be listening to the more funky side of rock music?
Jack : Well they should just listen to our music man, we are cutting edge.
Rhys : Cutting edge?
Jack : Yeah, we are the future of pop rock like. We have something real to say in our music. Lots of new bands don't seem to have anything real to say, they don't have anything to relate too. Its also important to have something to dance to, you know.
Rhys : I see, so you think one of the most important thing is to have something to get down and dance to?
Jack : Yeah, you have to have a good time man. We arn't into going around being all depressed like. We like to keep it positive.
Rhys : It's a nice change from the music scenes in Britain at the moment. All depressed and down about life. It's a good infusion of happieness. So have you got any big gigs coming up?
Jack : Well we are actually on tour at the moment. We are playing throughout Britain. Tonight we play the famous Toucan club in Cardiff.
Rhys : Hey cool, the Toucan club is a fantastic venue.
Jack : Yeah it's the home of funk in Wales like. Then we have a gig in the Monkey bar in Swansea, you know that place very well.
Rhys : Ha yeah just abit like, we have had many a great night there.
Jack : Your normally there like, hanging around in the shadows
Rhys : My second home like.
Jack : We are also playing the Cavern in Liverpool.
Rhys : Fantastic, the spiritual home of the Beatles
Jack : Then all over the rest of England and Scotland until Christmas.
Rhys : We will be hearing a lot of you in the new year then?
Jack : Well of course, we are still unsigned at the moment but are looking for the right deal. If anyone wants a c.d. now then its best to contact us on the web like. Our site is www.frame3-13.co.uk, or you can download some tracks from our myspace page which is www.myspace.com/frame313theres some really good bio's and information on there.
Rhys : Well only a few more questions for you Jack, we wont keep you all night. We know that you grew up in Swansea, the same place as me. Do you think that this environment influenced your music?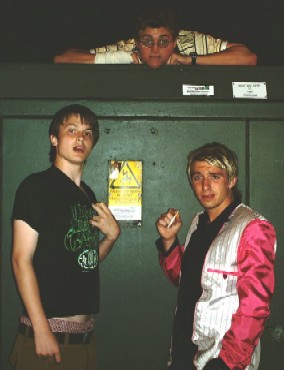 Jack : Oh definitely, even the way I sing includes the good old Swansea twang like. Also I grew up in one of the roughest areas of Swansea. A place which is quite funnily named Mount Pleasant. Well Pleasant it isn't like. Being In a rough environment like, you need uplifting music to make everyone happy and not all depressed and edgy. Dylan Thomas said that Swansea was the graveyard of ambition, so we want to put some ambition and drive into the young people like.
Rhys : That's a very philosophical reason for writing music, I like it, Would you please like to give a message to the fine people of Greece?
Jack : Yeah man, keep on rocking Greece and listen to our music. Boomshanka!
Rhys : Thanks Jack, its been a pleasure. Take care and we will speak to you soon, to see how you are doing.
Jack : Thanks Rhys, See you soon.
Rhys Edwards