Reviews for Jersey, Prince Douglas, Chikinki and An interview with Little Finger Little Finger
Jersey 'Jersey' Lok Music-Penguin, 2005
(Original in Greek: Kiriakos Skordas)

Jersey's notable debut album is a classic example of the blooming German pop/rock scene of recent years. Formed by members of some remarkable German bands (Notwist, Fred is Dead, and Iso 68), Jersey write music that comes from the brain, while it features occasional, elaborately threaded melodies, many quiet and chill-out moments, portions of rhythm, and fruitful improvisation by all sorts of instruments. Furthermore, in many of the songs there are vocals, in English, which have a positive effect by remaining lo-fi.
Although the sound often develops into a post-rock style, the album is basically a pop one. Moreover, even if the songs are not particularly loud, they by no means have any sort of claustrophobic tone. The mood is rather nostalgic, positive and cheerful. When it sometimes sounds aggressive, mainly due to the use of bass, it reminds of last year's 'Faking the books' by Lali Puna.
The arresting monotony of '1435', 'Slow Summer', and 'Hold on' promise some enjoyable listening times within the frame of a purified electronica. This is all fine, but there is a limit to the purity someone can take, and, therefore, the album applies better to collectors and fans of the particular kind.
Prince Douglas 'Dub Roots' Wackies/Penguin, 2005
(Original in Greek: Giorgos Galanis)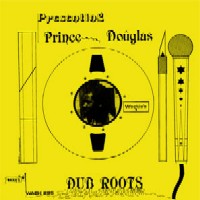 'Dub Roots' is the latest album to be added in the long catalogue of re-released titles by Wackies this summer. Douglas 'Prince' Levy has been a member of the Wackies family since Lloyd 'Bullwackie' Barnes made his first recording steps, back in 1974 in Bronx. In Bulwackie's studio, Levy worked on his own productions, releasing under Hamma label. By 1980, milestone releases of vocal albums and 12" dubwise cuts saw Bulwackie's team in the elite of reggae-dub scene.
Although Levy had some excellent recordings to work on, he got particularly inspired when he listened to Sly & Robbie's versions of Joe Gibbs' hits. He immediately appointed a few talented musicians (Junior Delahay, Jerry Johnson, Jah Batta) and started the studio sessions of Dub Roots.
'Handsworth Revolution' by Steel Pulse provided the base for 'March Down Babylon Dub', employing Bullwackie himself on the vocals, for one of the Wackies' greatest cutting edge tunes. Wayne Jarrett did the vocals in 'Tongue Shall Tell Dub', which was built upon 'Every Tongue Shall Tell' by Horace Andy. Yet another use of the backing track of Tyrone Evans' 'Black Like Me' is found here, stripped from the intense delay of the Roots Underground version, in 'Tribesman Dub'. Levy did wonders in the loaded dancehall-dub 'North Of The Border Dub', while 'Sunshine Dub' with Beres Hammond's supreme voice is 'Sunshine People' re-worked.
Finally, the standard policy of Moritz Von Oswald and Mark Ernestus of Basic Channel, of zero involvement on the artwork on the album, allows Leslie Moore to create one of Wackies' best covers.
Chikinki 'Lick Your Ticket' Kitty-Yo, 2005
(Original in Greek: Aris Bouras)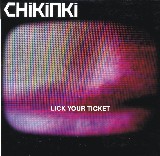 Maintaining an open-minded approach with respect for the past and search for new horizons in the music of today, the Berlin-based independent label Kitty-Yo has reached almost 100 releases in 11 years, having kept a low-profile throughout. Their catalogue lists artists from around the world (Tarwater, To Rococo Rot, Gonzales, Peaches, Louie Austen, Sex In Dallas, Jimi Tenor, Maximilian Hecker are some of the names that have recorded for Kitty-Yo), whose contributions form the generic diversity of the label that includes Rock, Post-Punk, Electro, Minimal Techno, Hip Hop, Folk, Jazz, and more.
Chikinki are 5 good-looking British youngsters that managed to get their first record deal with Kitty-Yo, and, if all turns out well, they may even see one of their singles making it big and their faces on NME's front cover pretty soon, since there's this sense of Britishness about them that appeals to BritPop fans. However, the sound of the band goes beyond the all time classic and boring BritPop guitars, and the involvement of Steve Osborne with the production and Alan Moulder with the mixing of the album's 12 tracks may settle any doubts. The robotic, slightly psychedelic, aesthetics of the album and the harmonious combination of guitars and electronic cuts serve a package that is fresh, while, at the same time, based on the traditional form of rock music. Although the vocals may sound a little pretentious at first, there are 3-4 truly exceptional songs in the album, likely to become radio hits, considering that Chikinki are already played by DJs, having been featured in the German Super Dance duet Tiefschwarz's new album.
'Lick Your Ticket' has been officially available at record stores since 25/7.
An interview with Little Finger Little Finger
It was June 2005, May maybe, although it definitely felt like summer. Strange odours fill the air, asian spice and sweat. This is India and the music missionaries Arthur Heightis and Ben Dover heard about an interesting gig by this supposedly cool band, which came all the way from Australia, called Little Finger Little Finger.
They played at a beach in Calangute, and we went round to check it out. The gig happened to be a great fucking experience for both of us. Eventually, we managed to meet the guys and arrange this interview which went like this:
@ We formed this band just after the Sydney punk rock scene started dying down. That's the kind of stuff we were also into, playing in rock bands since we can remember ourselves really, u know, at school and shit like that. We used to live in the suburbs, but we moved downtown. That's where we met and everything.
? How did that happen?
@ My older bro had this h/c band, it was called Martian Field, and they used to play at the Marquee –that's in Sydney right? So, u know, we had all moved in together and had started playing together at that point, so we managed to get a few gigs there as well.
@ We would compromise and serve blood-sucking corporation arseholes…
@ Like the fucking Marquee owners.
@ …easier than now.
@ Back in those days, u know.
? What year are we talking about?
@ Um.. hm… Uh…
? 1980's?
@ Um… well, sort of, cos now I'm 33, so if I started playing when I was 11 or so, oh yeah, oh yeah, that's it, I started playing in my own neighborhood and then I moved downtown, and I turned to a… pro.
? Oh well. Why did you stop playing punk rock anyway?
@ …
@ I think I can answer this one. You see, the scene wasn't what it used to be anymore after a while, the whole thing got fucked up. You had lots of skinheads creeping in, showing up at gigs, and all the snobby labels started showing an unusual interest in us. You know, they all came round trying to capitalize, make money out of the bloody thing, do you know what I mean?
? When you said you turned pro, do you mean that you could make enough for a living from your music?
@ No, no man, that was ironic, we never did that, just a few things.
@ None of us wanted to do that.
? So how did you support yourselves back then?
@ Well, we can't really tell you everything, yeah?
@ We may get into trouble man, fuck it.
At this point we realized that 4 out of the 7 Littlefingers Littlefingers hadn't spoken a word yet, staring at the sea through their sunglasses all this time, and… were actually fast asleep.
? When was the first Little Finger Little Finger gig?
@ Oh man, I can't remember that, how could you expect me to remember that?
@ How could you expect anyone here to remember… anything?
? Are you serious you can't remember your first gig?
@ It must've been abroad somewhere. I can't exactly remember, we've been to a few places, traveling around, you know…
? Can I ask you one more thing?
@ Sure, go ahead.
? We saw you on stage using a few acoustic instruments, like the double bass or the accordion, although your music seems to be founded on computers. What do you really call this music?
@ Are you kidding me? It's pure post-ronica, man.
? Is this a term that you came up with, something you thought of?
@ No man, post-ronica is quite big in Australia, has been out for ages.
? Hey, never heard of it before. Any post-ronica names you could think of?
@ Even though I think it's your job to know this sort of things, I would recommend the Godfather of post-ronica, B. Dawnson. Have you not heard of him?
? …
@ What about Grat Grat? I suppose if they were from the States or fucking Britain they'd be your favourite band, you asshole.
Obviously, at this point, we couldn't get on with the interview any longer, not because the guys got aggressive or anything, but because we felt a bit embarrassed. No bad feelings. We spent the next couple of days hanging out with them, going to some parties and stuff like that. They actually gave us a CD with some of their recordings, which was produced by Renato Celeste.